Rick Rasmussen — Wildlife Photographer
Tire Shop Owner & Nature Photographer
by Brad Mellema
Rick Rasmussen's passion for photography started when his Grandfather Jack gave him a Kodak Pony camera in the 8th grade. That camera gave him a new way to look at the world and started Rick on a journey that has lasted a lifetime.
Rick has always been an outdoorsman, spending time hunting upland game and waterfowl along the Platte River, which allowed him to gain an appreciation for wildlife. It was only natural for Rick to point his camera at what he knew, wildlife.
Learning what makes a good photograph was an obsession for Rick, and looking through the pages of NebraskaLand Magazine provided him with a standard for image quality that he judged his work against. He soon began to acquire the equipment and started spending the time required to make images that captured the attention of people, and publishers. He also met a fellow Grand Islander and wildlife enthusiast by the name of Bob Fagan. Bob's passion for video and wildlife opened many doors for Rick, connecting him to great locations and a group of photographers from Iowa that wanted to photograph Nebraska's Sandhill Cranes.
Rick lives along the Platte and began to piece together the larger story of the spring migration of the Sandhill Cranes and the Platte River's role in the international migration of more than half a million cranes that come to the Grand Island area. He photographed area wildlife, including the prairie chicken, but it was the cranes that really captured his imagination. The cranes are now a major attraction and draw tens of thousands of visitors to the area, many of whom view them through the Crane Trust public viewing blinds (CraneTrust.org).
In the early days, access to the birds required access to the river, something Rick could provide to his new photographer friends from Iowa.
The friendships have continued and expanded, allowing Rick to travel to Alaska some ten times, Antarctica, Utah and the Yellowstone area on three occasions. When asked about all of those exotic locations, why he continues to live in Nebraska, he said, "Its home. When I land at the airport and I travel back to the open prairie, I just feel at home." He's considered moving to his wife's native Minnesota, but it "seems a bit claustrophobic there" and he'd miss the sunsets and wide open feel of Nebraska.
Grand Island Characters
See Rick's Photography
Crane Trust Nature & Visitor Center
---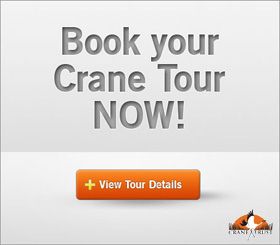 Nature & Wildlife Photographer
His day job might be running his grandfather's tire shop, but his passion is for photography.
The northern grasslands, including the ecologically unique Sandhills, are as important as places like the Amazon in terms of conservation. Photo courtesy of Nebraska Tourism.

Called one of the two greatest North American migrations, the Spring Migration of the Sandhill Cranes should be on your bucket list.